Total Hip Replacement
Hip Replacement - Get the world's best treatment for your hip replacement surgery treatment by Dr. Nishikant Kumar. → Contact Now
Hip joint replacement surgery is removing a damaged joint and putting in a new one. A joint is where two or more bones come together, like the knee, hip, and shoulder. Dr. Nishikant Kumar is a well-known Doctor for Total hip replacement surgery in India.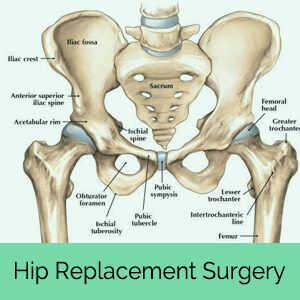 Hip Replacement is a treatment modality when other pain management therapies fail to provide relief from the arthritis of the Hip. Hip replacement is a surgical procedure in which the hip joint is replaced by a prosthetic implant. Such joint replacement surgeries are generally conducted to relieve pain due to arthritis or severe physical joint damage as part of the hip fracture. After the Hip Replacement surgery, one gets back all motions that one may need to carry out daily tasks. Also referred to as Total Hip Arthroplasty or Total hip replacement.
Why THR (Total Hip Replacement))
Osteoarthritis of the hip joint is the most common reason for people opting in favor of Hip Replacement surgery. Hip Replacement is an option worth considering if there is severe pain, loss of motion, or deformity of the hip joint. Hip replacement is also used in people with hip injuries, rheumatoid arthritis, and other medical conditions, such as a bone tumor or bone loss due to insufficient blood supply (avascular necrosis).
Client
Testimonials
Dr. Nishikant Kumar did and excellent job. My father wanted full bending knee replacements only. The two operations have been performed exceedingly well. My father had zero pain post-operatively. He can walk without a stick in a very short period. Dr. Nishikant Kumar is an amazing doctor in himself.
I, my family, and relatives have been consulting Dr. Nishikant Kumar for all our orthopedic problems and are very satisfied with the treatment we have had. I have also undergone two surgeries due to sports injury and have recovered very well and back to my normal life. I have been recommending his treatment to the people I know and I will continue to do so.
Dr. Nishikant Kumar performed hip replacement surgery on my mom's hip. She had been going through excruciating pain and if not for Dr. Nishikant Kumar we would have not known what to do. Dr and his team took tremendous effort and involvement in the whole procedure. He made sure my mother was taken good care of post-surgery. We had always been a little skeptical about the whole knee replacement procedure but reading about the doctor and talking to some of his patients convinced us to go talk to the doctor. A very kind person, he calmly heard my mom and made sure she was comfortable and relaxed throughout the procedure. Now she is walking absolutely without pain. I have no words to thank him and will be eternally grateful to have helped my mom get back on her feet. Happy to recommend him to everyone who needs help.